What's Hoppinin'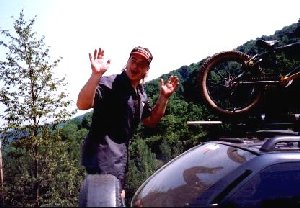 Check out the Journal!
You want more? Find me on Facebook, I never update this page anymore!
November 27, 2007
We're gearing back up! Ted is working away at his brand new shop. The new site is up and rolling. You will soon be able to check out many new videos from Ted Wojcik Custom Bicycles on www.youtube.com search for Ted Wojcik. So go there now and see what the buzz is about! www.tedwojcikbicycles.com
May 20, 2004
So it's been a few months since another update. Well no news is good news? Well sometimes. But got some great news today! This is an update for a new event this year. The Q93/Coors Light Balloon Festival at Jamesville County Beach on June 11th through the 13th. There will be plenty of Hot Air Ballooning, great musicians, fun, games and of course 'US' the Trialsin Action MTB Stunt Team! Our shows are brought to you by the Onondaga Cycling Club and Saturn of Syracuse Check out their events pages for more information about the festival! Also check out our schedule page for the performance times.
On other notes, the team will now be super energized by or new supporter MONSTER ENERGY Drink! Look for that Black and Green can for the ultimate boost. Check out their web site for loads of cool stuff and wallpapers. While your there, please drop them a note and mention Kevin Brody and Trialsin Action Mountain Bike Stunt Team sent ya'!
January 20, 2004
This weekend check out myself and the Trialsin Action Mountain Bike Stunt Team performing at the Cleveland CarQuest Autorama Car Show. Check out the information, schedule and directions at www.clevelandautorama.com
HOPE TO SEE YOU ALL THERE!
January 4, 2004
Happy New Year everyone! Another year has passed. 2003 was fairly low key for me as you can tell by the lack on information on my site. Could it be the "Lost Year" of trials? Well it wasn't much of a lost year at all. It was quite a crazy year for me in fact. To answer the first question...Yes, I have been riding....incognito comes to mind, very low key. Looks like 2004 will be my return! Other 2003 notes, my primary occupation for the year was building my new home in Connecticut and learning about the joys of parenthood with my new son Zachary. So that should pretty much sum up where I have been for the past year ;-) There were quite a few reported sightings of me at a few demonstrations and events. In fact the pictures should be posted in the next few weeks. 2004 is beginning to fill up with many shows across the US so keep an eye on the demonstration schedule to see when we come to your town!
I guess there's not much more to say! I can't wait to see everyone through this 2004 season. Now get out there and RIDE!
Posted May 1, 2002
A great trials show is coming up this weekend Sunday, May 5th at the West Hartford Reservoir!
Click on http://www.themdc.com/ and click on News and Events for a list of activities, the schedule and driving directions. Hope to see you all there! Brought to you by the Connecticut chapter of the New England Mountain Bike Assoc. and the Hartford MDC
Month of January 2002
Well as you all know it's that time of year, the off season. There is a chill in the air and snow on the ground which makes it a bit tough to ride. So it's time to get the demo section all geared up for the 2002 season. I have already been working on some new obstacles and should have a few new surprises by mid season. It looks like it will be another busy year, not only with demos, but another new venture that will be revealed in April for October so be prepared all you trials fanatics! As for demonstrations, if you would like to have a one and only Mountain Bike Trials Show at your event please drop me a line. There's still plenty of time! Can't wait to see everyone out there riding, Kev.